MFD Mourns Loss of Honorary Chief Seaman
From: Mineola American - an Anton Newspaper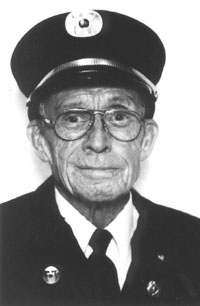 It is with great sadness the officers and members of the Mineola Fire Department announced the passing of Honorary Chief Herbert Seaman on Monday, April 5th. Herb was the senior member of the Mineola Fire Department having joined the department on May 15, 1932 at the age of 21. Herb served almost 72 years with Truck Company 2, including serving as Company Captain from 1945 to 1947. He was conferred the honor of Honorary Chief on the occasion of his 50th anniversary in 1982. Herb was also active in the Volunteer and Exempt Firemen's Benevolent Association where he served as financial secretary for 25 years.

Herb battled many of Mineola's major fires, including Reserve Supply in 1932, Richmond's Hardware in 1963 and the Mineola Hotel fire in 1966.

Mineola Fire Chief Scott Strauss said, "I've known Herb for more than 25 years and he truly loved the fire service. Even after 72 years in the department, Herb was still attending monthly company meetings up until about five years ago. He really enjoyed being at the firehouse and spending time with his brother firefighters."

Herb resided on Wellington Road with his wife, Marion and their children. Departmental services were held at Weigand Funeral Home in Williston Park.