"Teddy" Nowakowski, 57-Year Member, Dies at 76
From: Mineola American - an Anton Newspaper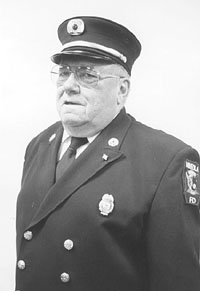 The officers and members of the Mineola Fire Department are saddened to announce the passing of Honorary Chief, Ex-Captain Thaddeus "Teddy" Nowakowski on Sunday, Aug. 1, 2004. With over 57 years of service to Engine Company 3, Teddy was a well-respected member of the Mineola Fire Department.

Teddy was born in Mineola on Dec. 1, 1927. He went to school in East Williston and graduated from Roslyn High School in 1945. After graduation Teddy enlisted in the Merchant Marines and went to sea for two years before returning to Mineola and joining Engine Company 3 on Aug. 6, 1947 with his good friend William Kessler. Teddy was called back to military service at the outbreak of the Korean War and was stationed there for 16 months. After Teddy returned from the war he married his lovely bride Helen and during their 41 years of marriage they had three beautiful daughters together. Helen predeceased Teddy in 1993 but his daughters, as well as the many grandsons they gave him, were the pride and joy of Teddy's life.

Teddy's service to the Mineola Fire Department began as an active member of the drill team and the bowling team. Teddy served Company 3 as treasurer and then was elected to the ranks of 2nd Lieutenant, 1st Lieutenant and finally Captain of Company 3 from 1962 to 1964. Teddy was an active member of the 25 Year Club, the Exempt and Benevolent Fireman's Association as well as serving as delegate to the Firemen's Association of the State of New York and the Nassau County Fireman's Association on numerous occasions.

Teddy was a fixture at the Elm Place firehouse. He remained an active member of Company 3, always showing up for special cleanings, hose tests and subscription drive recalls. He shared his knowledge and experience gained in his 57 years of service as a volunteer firefighter with all the younger members of the company. A die-hard Yankee fan, Teddy could be found down at the firehouse many nights rooting on his favorite team while drinking a Diet Coke. Teddy was a well-liked and respected member of Company 3 and the department. He enriched everyone's life he came into contact with and will be missed by all his brothers and sisters in the Mineola Fire Department.